The Ten Mile River Scout Camps have served the Scouts of New York City as their summer camp since its purchase in 1927. During its earliest years, each borough operated its own independent camp(s). Things began to change in 1938 when Alfred C. Nichols became the Director of TMR. A standard reservation‑wide program called the TMR Scout Award replaced individual borough awards and recognition programs.
This program was designed around four of the program areas offered at camp. A Scout would earn a basic Award, then awards in individual program areas. Each Scout had a record book where his progress towards each award could be measured; these books were issued with at least 3 different colored covers (tan, green. and blue) and with varying page counts. The booklet was entitled Ten Mile River Scout Symbol of Good Citizenship.
The Four program areas were each represented by an individual color
Program Area Color Basic Advanced
Aquatics Blue Waterbug Waterfront Guide
Nature Green Naturalist Nature Guide
Craftsmanship Orange Craftsman Craft Guide
Hiking Red Hiker Trail Guide

Recognition for completing each proficiency level was reflected by a patch. The Basic patch was a two‑inch red felt circle with a pocket tab attached, which is the patch most commonly seen. Rather than separate arcs, separate three‑inch patches, with pocket tab, were available for each possible combination of awards.
Colored Guide Stars on a Leadership Bar affixed to the basic level patch evidenced proficiencies, at the Advanced levels, The Guide stars were small colored stars that were screwed unto a bar with a clasp pin at the back or in some cases worn directly on the patch. Known Leadership Bar varieties exist which could hold 2, 3 or 4 Guide stars.
The one-color patches consisted of the red basic patch with a colored border for the individual proficiency Blue (B), Green (G), Orange (0) of Red (R) and a felt tab.
The common convention for discussing the various combinations is to label the colors in order starting from the 12 o'clock position and moving clockwise around the patch.
The six 2 color combinations typically consisted of two horizontal 180-degree arcs. The basic color combinations are BG BO, BR, GO, GR, and OR. In the Three-color combination variation, a 120-degree arc represents each color. The possible combinations are BGO, BGR, BRO, and GOR.
The basic sixteen-patch set would include: The basic felt TMR Scout patch. 4 one color felt patches, 6 Two-color combinations felt patches, 4 Three-color combination felt patches and 1 four color combination felt patch. Variations exist in backing materials, lettering size and tab color (tabs are normally Red, but Green and Orange felt Tab varieties are known). It is not uncommon to find patches were the tab has been removed and sewn to a uniform pocket or jacket.
Examples do exist where the arcs are vertical rather than horizontal, off‑center arcs or inverted colors (Blue over Green and Green over Blue are counted treated as BG) bit are not considered here as part of a basic set, Similarly for tricolor and four‑ or patches, different sequences are possible of the same color combinations.
The four‑color combination has 4 90‑degree arcs, one for each area, BGOR
A seventeenth patch was issued which reads TMR Staff. It is a 2.5‑inch red felt circle with pocket tab in the same format and while not part of the TMR Scout program, is frequently seen with collections of these patches,
Accounts vary on the timing of the transition. While the exact timing of the conversion is not known, it seems to have occurred during the very late 1940's into the early 195Ys. Since camps were still run on the borough level, it is likely that the timing varied from camp to camp, Most likely the felt patches were replaced by twill versions as supplies of the older felt patches were exhausted, The twill patches, which exist in all of the same varieties as the felt were used into the mid‑1960's when the program fell into disuse.
Each twill cloth patch exists in the same basic combinations as outlined above for the felt patches.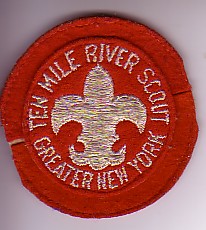 Both sets are difficult to complete, as the more commonly seen patches are the 1 and 4 color varieties, The tri‑color patches seem to be the most difficult. While I have managed to complete the full felts and twill sets; I am still looking to upgrade a single two‑color Orange and Red (OR) (with tab). This one continues to elude me in my quest to complete a felt mint set.
This article originally appeared in the Winter 2005 Edition of the T.M.R. Smoke Signals.
The next part of this article can be found here.