I recently added a page on the History of the TMR Scout program.  This article originally appeared in the Ten Mile River Scout Museum Newsletter Smoke Signals .  In it, I described that most two color bordered TMR Scout patches had 2 180° arcs that ran horizontally.
There were variations to the standard.  Here is one where the arcs run vertically.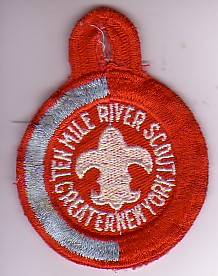 Does anyone have any other variations?